Aromatherapy Newsletter: Holidays 2018
Holiday Sale 2018!
Kaibab Plateau Gift Set
Blue Spruce, Subalpine Fir and Common Juniper live communally in the high elevation forest of the Kaibab Plateau. These freshly distilled essential oils reflect the pristine environment in which the tree grow. Still aromatically maturing, these oils will be ready just in time for Christmas, and will remain beautiful for years! We're offering this set for $55 including shipping. This is $23 off the normal price, and the offer is good until December 21st.
Order this lovely aromatherapy gift here: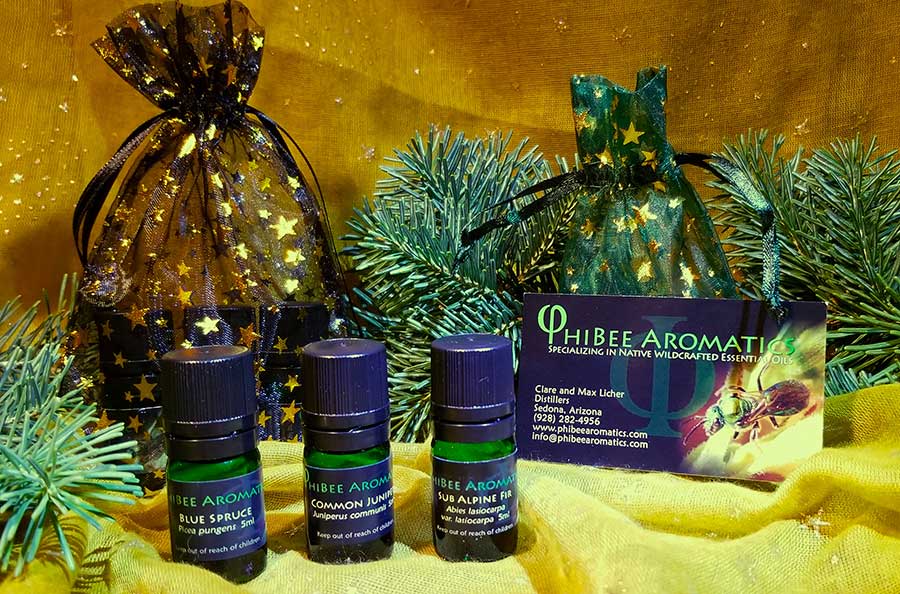 Give the gift of aromatherapy for the holidays!
About Blue Spruce
Blue Spruce essential oil has been in greater demand lately due to the studies on its prostate and endocrine benefits. It is often difficult to find online, so we did an extra distillation this year to be able to offer it at this reduced price. Because of several protected species in the area where we gather it, our collection permit time (and therefore our stock) is very limited.
About Subalpine Fir
Subalpine Fir has a sweet and beautiful Christmas Tree aroma.  This is a perfect oil to diffuse for uplifting holiday cheer, and for additional respiratory support.
About Common Juniper
Common Juniper is the most chemically complex of the 7 native Arizona junipers, with over 130 constituents.  It is camphor free and a very safe anti viral, immune supportive essential oil for the winter.
SALE EXTENSION! Rabbitbrush var oreophila 25% off!
We are also extending our 25% off sale of Rabbitbrush var. oreophila until December 21st, to help with any digestive woes that might result from holiday feasting!
We wish you all warm, safe and happy holidays!
The Licher family
---
Inventory Updates:
We were also able get many other oils back in stock the past couple of months. A small amount of wild Bergamot Mint is available again, as well as the Yerba Santa/Pinyon Pine co-distill, Mexican Arnica, Cleveland Sage, Fresh Green Pinyon Pine Cone and Bursage. Blue Spruce has been distilled, is maturing, and will be ready in another month or so.
We are sorry to say that both Desert Lavender and Snakeweed were hard hit by last year's drought, and we felt it best to leave the plants be. We may yet be able to do a small distillation of Snakeweed because of the recent rains, but Desert Lavender will have to wait until the Spring.
---
Upcoming Aromatherapy Workshop
Sedona Retreat!
May 19th – 24th, 2019
We will be partnering with the New York Institute of Aromatic Studies for our 4th annual Sedona Retreat, from May 19th – 24th, 2019.  It has been a pleasure and an honor to work Amy Galper and Jade Shutes to provide this retreat.  We have had wonderful groups of people and fantastic experiences each year.  This year we will have the award winning El Portal Inn, for our accommodations, which is in walking distance to great restaurants, shopping and even PhiBee Aromatics distillery!
About our Workshops
We offer public and private events, ranging from 1/2 day presentations, up to 4 day hands-on distillation workshops.
Private events can be tailored to meet the particular interests of your group or organization.
We also offer weekend apprenticeships.
Please contact us for more information!