We will be out of town from Monday, March 12th - Tuesday, March 20th.
All orders placed during this time will be filled immediately upon our return. Thank you!
Essential Oils: Snakeweed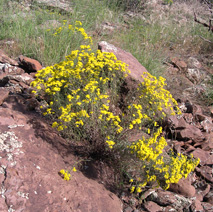 Snakeweed (Guttierrezia sarothrae)
Gathered in Sedona and the surrounding areas. This wonderfully complex oil has over 170 known constituents. The aroma is coniferous, warm and reminiscent of cumin. This is a panacea oil, and as one might suspect, the plant has been used traditionally for treating snake bite. Antiinflammatory, antirheumatic, analgesic, anti-infectious, antimicrobial, uterine stimulant. Dilute and apply topically for fibromyalgia and rheumatic arthritic pain. Not to be used by pregnant women.